Sunday in the Black Country
The photo today is of the River Tame in Sandwell Valley Country Park. I'm not sure where I'll go today. I want to go somewhere, because the weather forecast is good. At Walsall it's the Caldmore Village Festival in Palfrey Park. I was going to photograph that last year, but the weather wasn't very good.
This week…
The French are always moaning about their language being corrupted by English. While we have buffets in railway stations, they have 'le snack bar'. C'est la vie, get over it…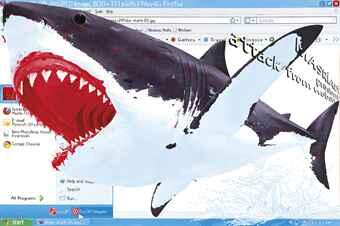 This picture sold for 7.2 million Hong Kong dollars at auction this week. I think I'm missing something there. Andy Warhol did say that art is whatever you can get away with… There's a sheep pickled in formaldehyde in Walsall art gallery.
It's the Monaco Grand Prix today. Monaco is that little super-rich state with no income tax and a per capital GDP of over 140,000 pounds. That's nearly as much as the CEO at Sandwell Council earns a year. I wonder if Michael Schumacher is still doing the L'Oreal adverts, because he's 'worth it'.
At Aston Villa football club they are urging gay soccer players to 'come out'. Not in the showers, please…
The BBC hoped to do away with video tapes and make everything digital, but the new computer system didn't work out. It was only £100 million of our money down the tubes. Why is it that companies like Google can get it right, but the BBC can't? It's only a couple of weeks of our licence money.  It seems the government has two £7 billion aircraft carrier projects that could end up the same way. HS2 looks dodgy at 32 billions too. In all, the government has projects worth £350 billions that it's monitoring including benefit 'reform'. I have this image in my mind of a planned drunken orgy in a brewery that results in everyone going home sober, if not regaining their virginity. That would probably have a billion quid budget.
People with higher IQs are slow to detect large background movements because their brains filter out non-essential information, say US researchers. Instead, they are good at detecting small moving objects. I had noticed…
The New North is a two-part series on BBC Radio 4. The first episode is on Sunday 26 May at 13:30 BST. I shall probably miss that programme. You can see pictures of the iconic buildings they will talk rubbish about, on the website. Many of the photos are by Getty Images and they don't come cheap. Personally, I'm sick of iconic buildings and statues. The Public on West Bromwich High Street is a disaster and now they're talking about it being turned into a sixth form college to match the new Sandwell College building. That's iconic too, it has a wave shaped roof. You couldn't make it up…
I think we need a nice environment. Walk around Britain's Victorian parks and it's relaxing, they knew how to design and build. Many of Britain's buildings are Tudor or Victorian and towns that feature them attract visitors from all over the world. People go to Stratford upon Avon because it is a beautiful town with a rich history. I know Walsall put the art gallery at the side of the canal, it was a nice try; but it doesn't really compare does it? West Bromwich has the beautiful Oak House hidden away in a back street and an iconic pink box on the High Street for all to see and feel embarrassed about. I really need to go to Walsall Arboretum and Dartmouth Park and see what they have done to them. The councils around here don't inspire me with confidence. They block the ends of roads off and put humps everywhere and spend millions on iconic buildings and wonder why this is a deprived area.
That's the lot for today. I have some shopping to do and the sun's shining so I fancy an afternoon out. If you live local, have you say in the comments box…
Related articles